Entertainment
Edgar Obare Finally Finds Owner Of The 'Betty Handbag' Who Warmed Joho's Heart In Dubai
Controversial blogger Edgar Obare has once again come out to expose the real lady who traveled with  ODM'S junet Mohammed and Mombasa governor Hassan Joho to Mombasa.
Kenyans had flooded social media  asking the duo to reveal the identity of the owner of a handbag appearing in a photo while in a private jet to Dubai.
The observation came from hawk-eyed Twitter users, moments after the two politicians announced they were headed to Dubai to visit ailing ODM leader Raila Odinga.
The brownish bag in question was placed under the table where Mohammed was seated.
"Please also tell us about the handbag," @jamnarisaaa posed.
"I see you have some company but are not willing to show us," added @josimaaa.
Some Kenyans have shared photos of Kenyan women carrying brown handbags, claiming to have unmasked its owner's identity.
People dug deep and found journalist Betty Kyalo's photo of her carrying a handbag that was somehow similar to the one spotted in Governor Joho's picture.
Considering the fact that the two share a romantic past, people were quick to conclude that it was indeed Betty who took the picture and accompanied the two politicians to Dubai.
However, that was not the case. Betty Kyalo posted on her socials that she was in Kenya and in fact, was headed for lunch together with a friend of hers. This left netizens baffled. Who then could be the owner of the handbag? The search for the lady began, again.
But Now Blogger Edgar Obare through his Instagram status finally exposed the real owner of brown leather bag as Natalie Tewa.
A photo of her carrying that same bag emerged. As further evidence, she was spotted with the said bag a while back when she was on a trip to Dubai.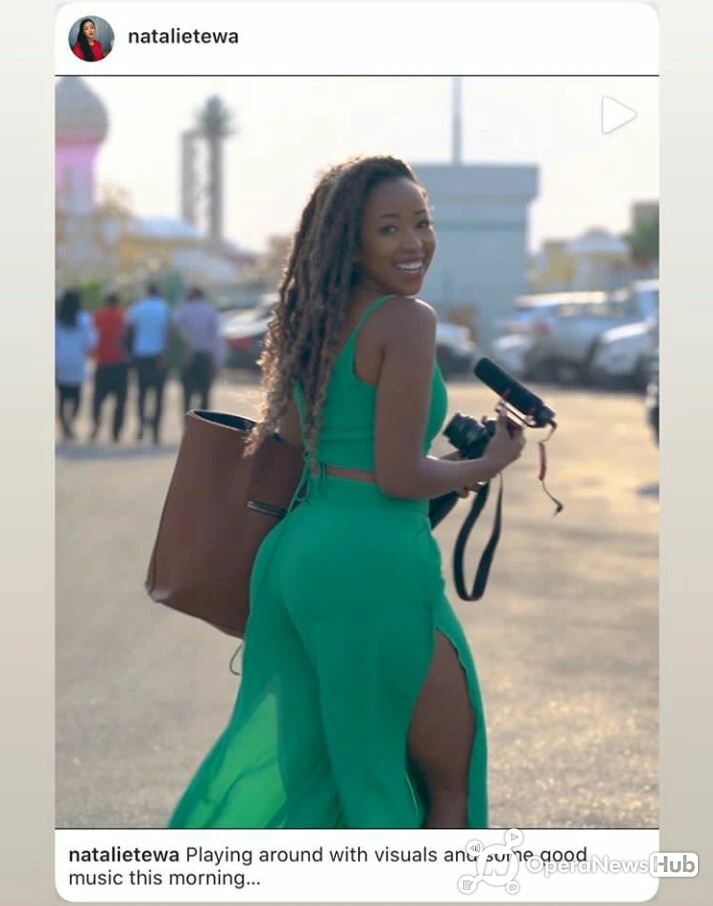 Bootilicious city influencer and vlogger Natalie Tewa's VISA was also exposed by Edgar Obare and identified as the lady who accompanied Joho and Junet to Dubai.
Obare came forward with messages from Kenyans who came sent him private messages  and confessed of witnessing the two politicians boarding the private jet with Natalie.
Actually, there was one who said they had witnessed Joho and Natalie at Mawimbi Seafood 'getting cozy'. There is however no solid evidence(photos) to prove this.
A lady who claimed to be present at the airport told Edgar that Ms. Tewa was present at the airport and was occasionally being hidden to avoid any suspicion.
Here are the screenshots and evidence according to Edgar Obare;
Edgar went ahead to confirm that indeed it was Natalie who was present in the plane despite
Hours Later after after the brown bag went viral Governor Joho posted another photo on twitter, announcing their arrival in Dubai.
What caught people's eyes was the lady in the picture who carried 'The Handbag'. This should clearly indicate that she was the REAL owner of the bag.
But with Edgar Obare's confessions nothing goes that easy. The lady looked like part of the cabin crew. Actually, she was a can crew according to Joho's caption on the photo.