Entertainment
Kwamboka Now Gives Papa's Wife Only 24 Hrs To Discuss On How To Divide Wealth Equally Or Share A Scandal With Kenyans
Kwamboka, the University who has gone viral for claiming she has has Papa's child is now pleading with Kenyans to help her raise the DNA fee.
She noted that, she was confident that the result will turn out positive since she has a well known romantic affair with Papa.
Kwamboka is now facing difficulties getting finances for the court and to conduct DNA tests and now is pleading with willing Kenyans to help her.
She claimed that with DNA she is sure of winning the case and that she will be able to return all the money given to her by those Kenyans.
"I just want DNA conducted, because this is the only way of assuring that this was Papa's child. I know after doing all these and win, i will be able to pay back all the money from the wealth i'll be given." She said
Kwamboka threatened to release photos of Papa if anyone will not take her serious. The lady claimed that she has evidence that Papa was always with us and out of the respect she has for him, she will not release them anytime soon unless otherwise.
"I have a lot of evidence that Papa visited me, i know a lot of people will doubt this but i'm very sure of what i'm talking about. I just don't want to release the photos since i respected him but should people push me to the end i will release them" She threatened
Yesterday, Beatrice Adenga, the widow of the late revered TV actor Charles Bukeko, better-known as Papa Shirandula, came out to condemn women saying they they had other children with his late husband.
Speaking during a brief burial ceremony on Monday, July 20, Adenga claimed the two women who surfaced after Papa's death just want to cause chaos and drama and nothing else.
"Everyone knew Papa had one family, it is wrong for these small girls to start tarnishing his name, let us give him the respect he deserves." She said
She noted that if anyone has legit evidence should move to court or get DNA done.
"If you have evidence you can go for DNA test or prove your claims in court, i will be ready to battle it out with you." She said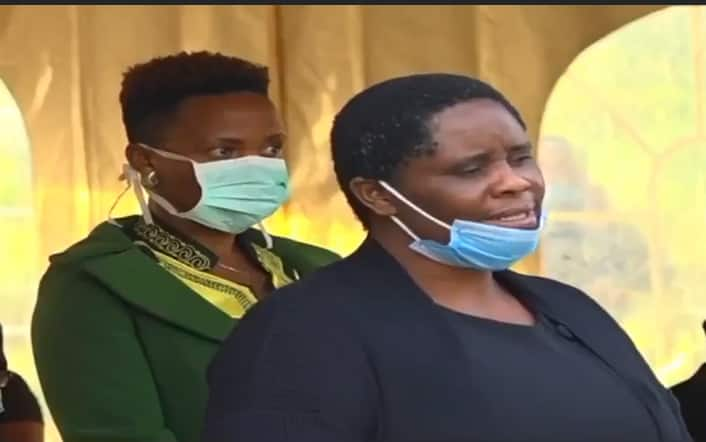 Beatrice was responding to claims by Kwamboka after she  stormed social media claiming she has a young child with the late actor.
Kwamboka posted in social media that they have been having a secret relationship with Papa and only her close friend knew that, something that irritated the family members and they had to repond.
Purity said that she now has all the rights to gain from the wealth that Papa had made over the past years.
The lady said that she met Papa for the first time when he came at Multimedia university and that is where they started brewing their love.
She said that he had requested papa to help her get an actress job, but instead they had a romantic relationship that led to a bouncing baby boy.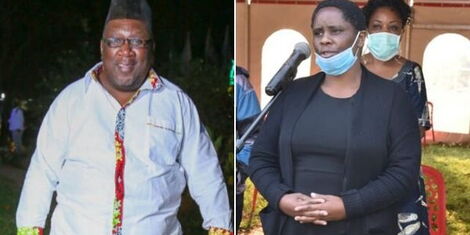 While giving testimony and narrating the life of her late Husband, Papa's known wife said that she will not tolerate rumors and the life of Papa must be respected.
She also narrated how Karen hospital had abandoned her husband even when he had a serious health condition. She blamed Karen hospital for carelessness and promised to find justice for her late hubby.
At his burial on Monday, Andega blamed medical negligence and admissions bureaucracy for what she called a fatal delay, despite his condition being an emergency.
She said she watched the famous comedian and actor turn cold and die in the car seat in the hospital parking waiting area. He was aged 58.
Reached for comment, Karen Hospital proprietor and director Anthony Gikonyo denied the claims of negligence, saying doctors did all they could.
"We did our best to save Papa Shirandula's life…but he unfortunately died," he said. "As a hospital, we are sorry about it. There could not have been much that was not done to save his life."
He did not elaborate or address the widow's claims of delayed admission and death in the parking bay. He did not discuss any medication or advice Papa had been given when he went home after the Covid-19 test.
Gikonyo said parties have hinted at seeking legal redress.
Bukeko's body was taken to his rural home in Nanderema, Samia, in Busia county where he was buried on Monday before 9am.
Andega told mourners during the televised burial that her husband has been away for a while, working day and night. When he returned home last Sunday, he complained of chills and said he was feeling unwell.
She told him to go to the hospital to be tested for pneumonia, malaria and Covid-19.
"You have been in cold weather  for a long time, go to the hospital and get a test for pneumonia and malaria. I told him to also get tested for Covid-19 because 'you are mingling with too many people'. Make sure there are three tests. He agreed," Andega said.
But at Karen Hospital on Monday last week, Bukeko was only tested for Covid-19 and only got the results two days later.
But on Friday, she noticed he was getting overwhelmed and had difficulty breathing. She rushed him to the hospital on Saturday morning.
"…at the Karen Hospital, admission was just another process. I'm telling them, 'Please, he needs support, this is an emergency.' The time they were still preparing, he passed on when I was with him in the vehicle. He was not even admitted. He passed on seated in the car," Andega recalled.
"I went and asked the doctor, 'How many tests did you carry out?' The doctor tells me 'only one'. I asked him 'Why? There were meant to be three. I asked him, 'Why did you concentrate only on Covid-19 and omit the other two'?" the widow said.
"I felt it was negligence on the part of the doctors at the hospital. I wish they did everything for him (but) they omitted," she said.
The claim of negligence brings to mind the alleged negligence and delay that saw literary icon Ken Walibora die at Kenyatta National Hospital in March.
It was reported that he was rushed to the national referral facility after a road accident but remained at the waiting bay for about 24 hours, in pain until his death.