Entertainment
Woman Exposes Akothee's Sister (Cebbie), Claims She Drained All The Money Her Husband Had Saved (Screenshots)
Controversial Blogger Edgar Obare has exposed Akothee's sister Elseba Awour Kokeyo alias Cebbie Koks Nyasego's cheating habits and ways in which she uses to drain men's pockets.
Edgar Shares several screenshots In  his Instagram status, Edgar Obare revealed how Cebbie has been cheating with different men.
In one of the screenshots , a woman is accusing Cebbie of snatching her husband from her. The woman claimed that she discovered that her husband was having an affair with Akothee's sister in 2018.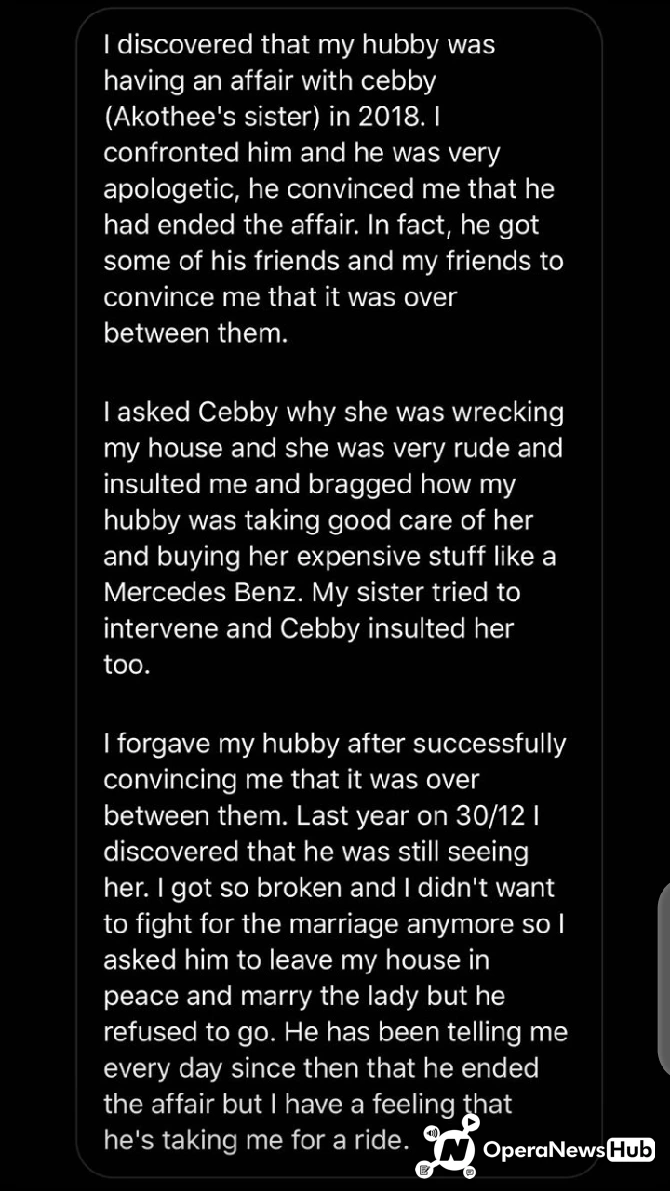 The woman claimed that confronted her husband about the issue and he apologized, the husband promised never to have a thing with Cebbie.
The anonymous woman claimed she asked Cebbie why she was wrecking her house but Akothee's sister was very rude, she hurled insults at her and bragged about how the Woman's husband was taking good care of her and buying her expensive stuffs like Mercedes Benz.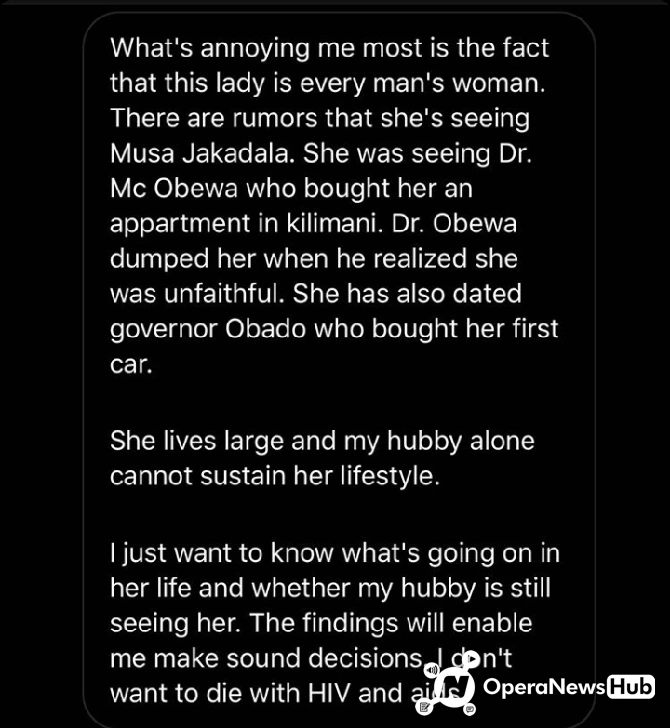 The Woman further revealed that she forgave her husband after successfully convincing her that it was over between them. Last year 30/12 the woman discovered that the two were still seeing each other.
Akothee's sister is reported to be every man's woman. There are rumours that she is also seeing Musa Jakadala . It is said that Cebbie was also seeing Dr Mc Obewa who bought her an apartment in Kilimani. Dr Obewa dumped her when he realized Cebbie was unfaithful. Sources reveal that Akothee's younger sister also dated Governor Obado who bought her first car.
The woman claimed that Cebbie lives large and her husband alone cannot sustain her lifestyle.
Cebbie was also named among those who hanged with Jalang'o's boys Club. Edgar asked Cebbie if the allegations were true but next he received a call from Jalango who threatened to sue him.
Akothee defended Cebbie and Jalang'o . According to Akothee if Edgar's intentions is to destroy families then he should be ready to be destroyed too.
Fear Women, a woman can do anything for a man in exchange for money and vice versa.
The Sad woman also send screenshots of Akothee's sister insulting her.
In the same leaked conversations Cebbie went on to say that her sister lives a fake lifestyle.
The lass was speaking to her alleged bae telling him how her sister has nothing but brags of owning the world on social media.
"She has nothing at all even to pay her kids fee. She picked two boys in 2017 and employed them at Akothee Safaris, they have never even gone to a computer or driving school. She has nothing." Read the text
In another text, Cebbie alleges that when Akothee was admitted at Karen hospital she could not pay her bill adding that Akothee will soon be smoked out for living a fake lifestyle.
"Even that Karen hospital where she is currently admitted, she will be smoked out." Read another text
Akothee has now come out to narrate how she stopped matering to her family because she wouldn't let them ride on her success.
In a long post Akothee says the only people she helps who appreciate her help are her parents and grandparents.
I am still a mother and I will always be that mother , my heart betrays me all the time, from one corner to the other…

Posted by Akothee on Tuesday, July 21, 2020